RHOBH OG Kyle Richards dishes on Annemarie Wiley and why she thinks it's important fans make their own decision about the season 13 newbie.
During a recent Amazon Live, Kyle Richards answered some questions about the upcoming season of RHOBH and newbie Annemarie Wiley.
Kyle said, "Well, I'll let you decide on Annemarie. I think she's a great addition." 
She then explained how she met the newest RHOBH star.
"I met Annemarie because … they are clients at the agency, and she came to an event at my house — she and her husband — for an agency event. And they had just bought their house, and they're my neighbors … [Marcellus] was making fun of me … He said he'd seen my DirecTV commercial," Kyle revealed. "I said, 'Yes, I shot that at WiFi Stadium.' That's what I said instead of SoFi. And I said it with a straight face, and he, like, died, fell over laughing. And I was like, 'What?'"
"Anyway, I think you'll like her," she added of Annemarie.
Back in March, reports surfaced that Bravo cast Annemarie Wiley, the wife of former NFL defensive end Marcellus Wiley, as a diamond holder for season 13 following the exits of Lisa Rinna and Diana Jenkins.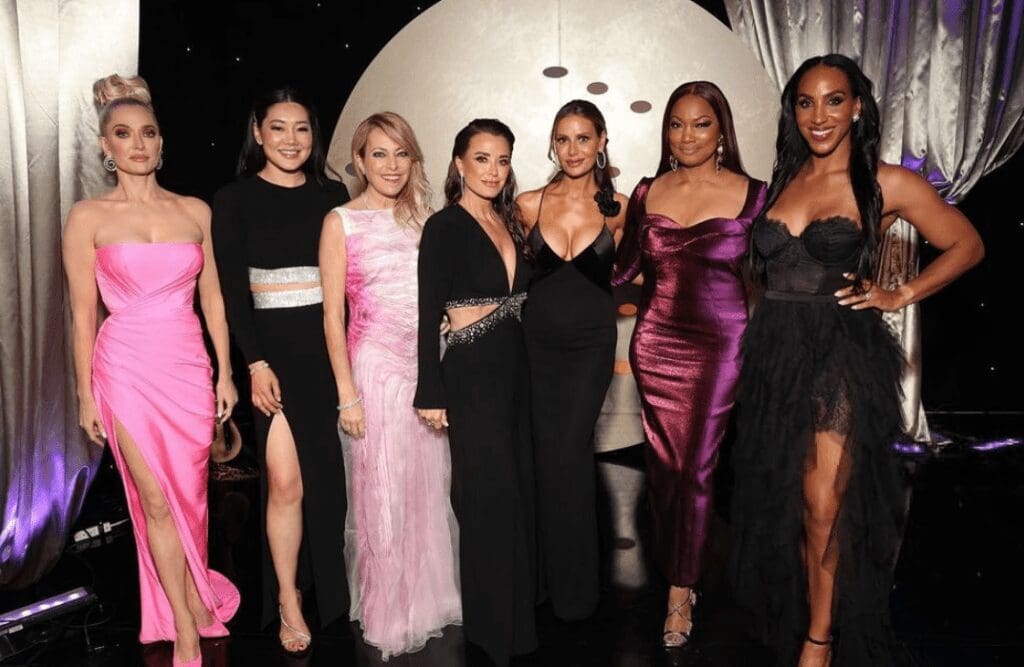 Annemarie is a 40-year-old nurse anesthetist who is also mom to son Marcellus Jr., 7, and daughters Ariya Jayne, 4, and Alivia Marie, 3. She's also a stepmom to her husband's 24-year-old daughter, Morocca Alise, from a previous relationship.
"She's hilarious," one insider said at the time. "She's got such a lovable personality, lives an active, full life, and is married to a great husband with an adorable family life. She's a hard-working mom. She's going to be a great fit."
A month later, the controversial opinions of Annemarie's husband surfaced on social media, leaving RHOBH fans divided.
Marcellus has been very vocal about his feelings surrounding the Transgender community. On his YouTube channel and podcast, Marcellus went on a rant about basketball star Dwayne Wade's Transgender daughter. He also made it known that he doesn't support Transgender women competing in sports against natural-born women like his daughters.
Bravo fans then uncovered that Annemarie and Marcellus follow several controversial political figures. The couple not only follow right-winged personality Candace Owens on social media but also Joe Rogan. One fan even alleged that Annemarie and Marcellus are friends with Candace Owens.
The Bravoverse is quite divided on their feelings about the Wiley family's political beliefs. Some fans don't care about Annemarie and Marcellus' political beliefs, while others are over Bravo hiring "garbage" people.
Despite the controversy, insiders and fans are hopeful that Annemarie will be a great addition to the RHOBH cast.