Katie Rost must really want back on the Real Housewives of Potomac because she is spilling some piping hot tea.
Over the weekend, the RHOP OG alleged on Twitter that she slept with co-star Charrisse Jackson-Jordan during the early seasons of the franchise.
According to Katie, she lied about her sexual tryst with Charrisse so that she could get her divorce settlement. Katie also insists that RHOP producers and Karen Huger knew about their hookup.
"Maybe next season on #RHOP, they will ask @charrissejordan about the night we had sex, and I lied for her so she could get her divorce settlement. Maybe?" Katie tweeted.
"I'm not bitter," she insisted. "Just saying. Or maybe she is so entertaining we will all be amazed as…NEVER."
On top of that, Katie says she's not "outing" Charrisse and that she only kept quiet in the past to "protect" her friend.
However, she notes that several people were aware of their sexual encounter.
"I never "outed" anyone. That is a term used in the past when people were ashamed of their sexuality. I protected my friend. But yeah, I don't lie. Told my executive producer also. I don't lie," she continued.
Katie added, "I never lie, told Karen first, told my mom. I don't lie."
This isn't the first time reports of a sexual relationship between Katie, and another OG member of the RHOP cast have surfaced. However, it is the first time that Katie has named names.
Back in 2020, the Black Socialites first reported that Katie slept with one of her fellow Potomac Housewives.
The outlet shared the following: "Can u guess which Veteran OG that Katie Rost allegedly got into her hotel bed heavily intoxicated without any panties and wanted to have lesbian sex with? ? The same OG who Katie went over her house from The Village after being heavily intoxicated again and got drunk and threw up all over her home, woke up the next morning and started drinking beers again, stole a 6 pack from her garage, and sent her on a wild goose chase for hours because Katie couldn't remember where she left the car she was originally driving….. Hot Lesbian nights in Potomac ? #rhop #whycryoverspillledmilkwhenyoucanlaughoverchampagne"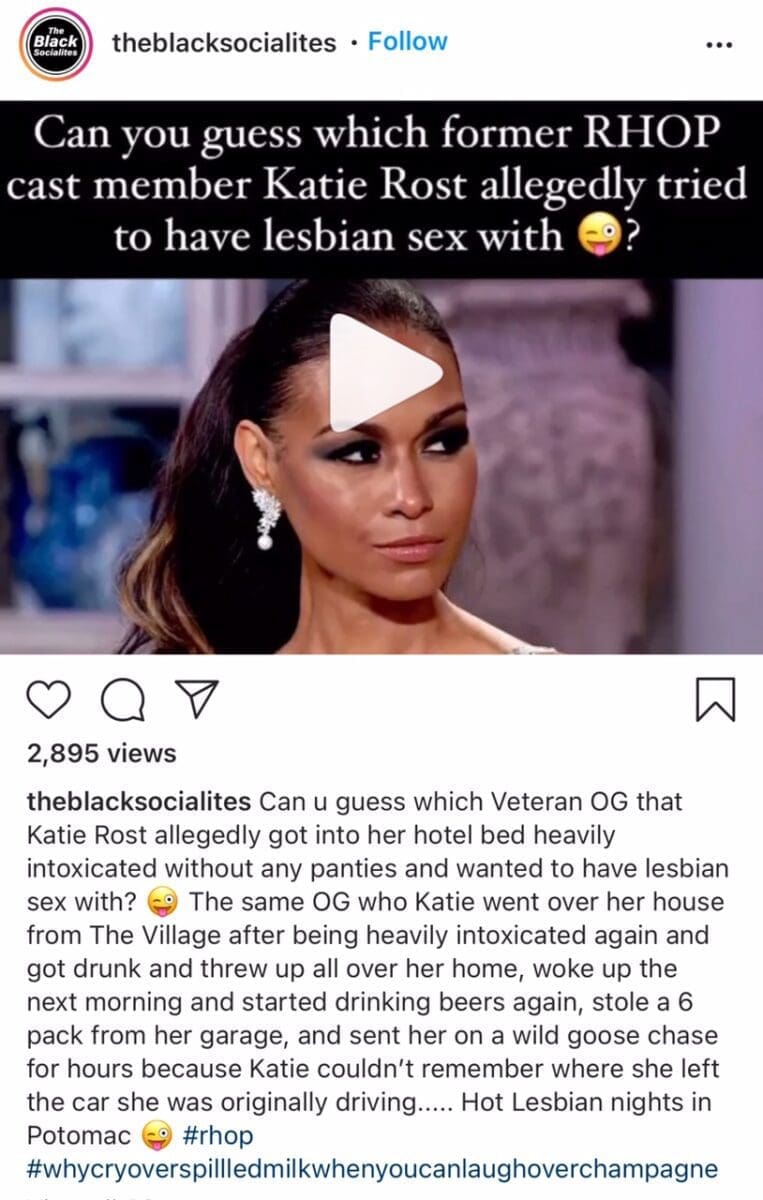 Katie responded to the allegation in the comment section of the post.
"I was going to bite my tongue, but as a bi-sexual woman who had a sexual relationship with a cast member when I was on the show is my own business and hers," she wrote. "It is mean-spirited and unnecessary to write this. We have a friendship that will last beyond this [haterade]."
She continued, "I am proud of that and of love that we made. I think it's evil to shame us for what had and have."
Katie then shared a now-deleted Instagram post that read: "Just got a super bitchy text from a friend. Not necessary. Check yourself before you wreck yourself….you know the rest. #becool (if you had kept your mouth shut in the first place, I wouldn't be cleaning this up… ) #katievibes."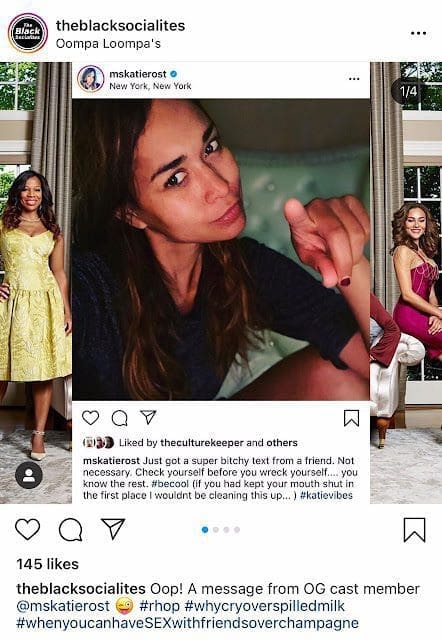 The Real Housewives of Potomac is expected to return for season 8 in late 2023.
Thoughts on this all? Sound off below!