The Real Housewives of Beverly Hills is a merry-go-round of drama, and it's always fun to see who might be a good fit for the show.
Carmen Electra is the latest celeb to throw her name in the ring to join the Beverly Hills Real Housewives franchise.
The model and actress said it "would be fun" to join RHOBH alongside her friend Garcelle Beauvais.
This all came about after the account @cici.loves.you shared a meme that read: "Wait, Carmen Electra joining #RHOBH as Garcelle's friend would be very interesting tho…" alongside photos of Garcelle and Carmen. 
"Would be funnnn," Carmen replied.
The comment got picked up by Comments By Bravo, and RHOBH fans couldn't help but gush at the potential casting move.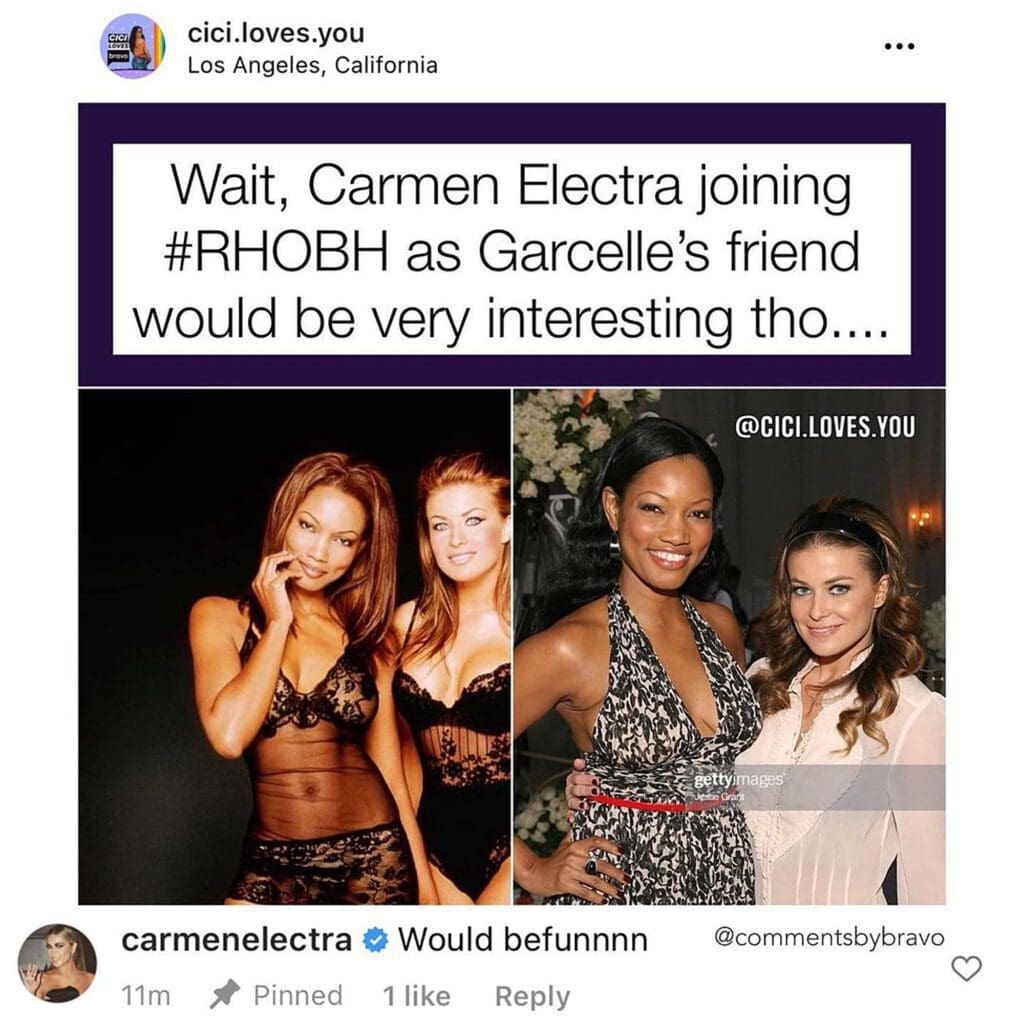 "This needs to happen ASAP," one fan wrote, while another added, "Don't even get me excited like that."
"Omg I would LOVE this," a third fan shared. However, another fan was quick to note, "She better give more than Denise!!!!!!!!!!! I want the Hollywood secrets."
Meanwhile, singer/actress Ashlee Simpson spent New Year's Eve with RHOBH stars Kyle Richards, Crystal Minkoff, and former Housewife Teddi Mellencamp.
Kyle posted a photo of her, Ashlee, Teddi, Crystal, and friends on NYE to her Instagram feed.
https://www.instagram.com/p/CYNy8gJMWSQ/?utm_source=ig_web_copy_link
This photo got me thinking that Ashlee would be a great addition to the RHOBH cast – she's young, famous, rich, and has some fantastic family members – hello Jessica Simpon, Diana Ross, and Tracee Ellis Ross. Imagine the possible cameos! 
RHOBH is expected to return to Bravo in Spring 2022.
Thoughts on this all? Do you think Carmen or Ashlee would be good fits for RHOBH? Sound off below!
Follow AllAboutTRH On Instagram.
Follow AllAboutTRH On Twitter.
Like AllAboutTRH On Facebook.